Summer at the Marbella Club
15/06/2022
From retail remedies to polishes, celebrate the busiest summer yet at the Marbella Club. Here's an insider look at what you'll find throughout the resort:
CHANEL
Legendary fashion maison, CHANEL has re-opened the doors to its seasonal boutique at the Marbella Club for the second year running. Until October 2022, guests can shop the brand's Spring / Summer Ready-to-Wear collection which is a tribute the carefree 90's. Later in the season, the boutique will also host the 2021/2022 Métier d'art collection which celebrates the savoir-fair of CHANEL's artisan partners. It will also feature a dedicated Watches and Fine Jewellery section in a separate alcove where guests will be able to discover the timeless J12, Première and Boy-Friend Watches along with COCO RUSH Fine Jewellery collection. The spacious 160 square metre pop-up has been designed in CHANEL's emblematic colour palette of beige, white and black, with a statement suede couch inspired by Gabrielle Chanel's iconic sofa from her Parisian apartment on Rue Cambon.
Bottega Veneta
One of Italy's most coveted luxury fashion houses, Bottega Veneta has launched a pop-up running through to October featuring some of the brand's most iconic signature handbags alongside the new resort collection. The mobile store will be located at the entrance of El Patio, the property's laid-back courtyard restaurant and bar, the perfect spot for a cocktail or crisp glass of wine post retail therapy.
Love Brand & Co
Raising awareness for the Marbella Club's ongoing seahorse repopulation project in partnership with conservation research centre Aula del Mar, the hotel has partnered with British resort-wear brand LOVE BRAND & Co. to launch a seahorse-inspired capsule collection. The exclusive collection will be sold online and at the hotel's beachside boutique and will include male swim shorts for both adults and children, a unisex linen shirt and sarong, girls swimming bottoms, stylish Panama hat and hair scrunchie, all adorned with a unique seahorse print. The print has also been thoughtfully woven into the décor of the toes-in-the sand chiringuito, MC Beach, where throughout the summer a portion of all guest bills will go towards the seahorse repopulation project.
Collagerie
This summer, Marbella Club has launched a partnership with one of the hottest curated shopping platforms of the moment, Collagerie. Co-founder, Serena Hood visited the property just a year ago and immediately fell in love, seeing a perfect synergy between the two brands. The very first pop up of its kind, it sees a diligently curated selection of fashion and lifestyle brands from low and high price points. Items include silk painted sun hats by Spanish brand Romualda, colourful placements by Majorcan textile makers Teixitis Vicens which will sit alongside ceramics from British tableware brand, K.S Creative Pottery. The concept store is situated in El Patio and features where flower-decked windows designed by artist Liv Lee hint at the chic treats that can be found within.
Louis Vuitton
Embracing the Mediterranean this summer, luxury French fashion house Louis Vuitton launches a new pop-up boutique featuring the brand's summer collection which includes a selection of men and women's ready-to-wear shoes and accessories as well and some of the Maison's emblematic handbags.
PROPERTY POLISHES
Our sun-splashed Beach Club will soon unveil a new look that nods to the 1950's in the Mexican Riviera's famed town of Acapulco, which was once the playground for Hollywood stars and the world's most elite. The region was also frequented by Prince Alfonso for many years and served as a key inspiration for the property's gardens. The Beach Club will feature hints of green and coral throughout, with reimagined al fresco hangout areas for guests in the lounge, bar, and pool. The restaurant will change from buffet to a la carte, with a new Raw Bar featuring refreshing seafood dishes such as ceviche, tiradito and oysters with live cooking demonstrations and spots to play backgammon inspired by the renowned Slim Aarons photos that were captured during the Marbella Club's golden days. Meanwhile, a new cocktail menu will feature tropical classics such as Mai Tais and Piña Coladas served in iced Tiki glasses to be enjoyed under the shade of the Beach Club's traditional Andalusian palapa.
With salty sea tough on the hair, we're happy to add a hair spa element to the Beauty Studio located at El Patio. The new salon will not only offer blowouts and natural tinting treatments; from mid-July, we will also offer a limited number of treatments from world-renowned Dr Barbara Sturm: a Revitalising Scalp Treatment and two facials. There will be a variety of therapies from a Revitalising Scalp Treatments, a Signature Sturm Glow and Super Anti-Aging Facial.
And to top off, ask us about our newly opened Water Sports space at MC Beach, our monthly Nutritional Wellness Activities and programming for all-things-tomatoes at our Seasonal Garden.
Related PostS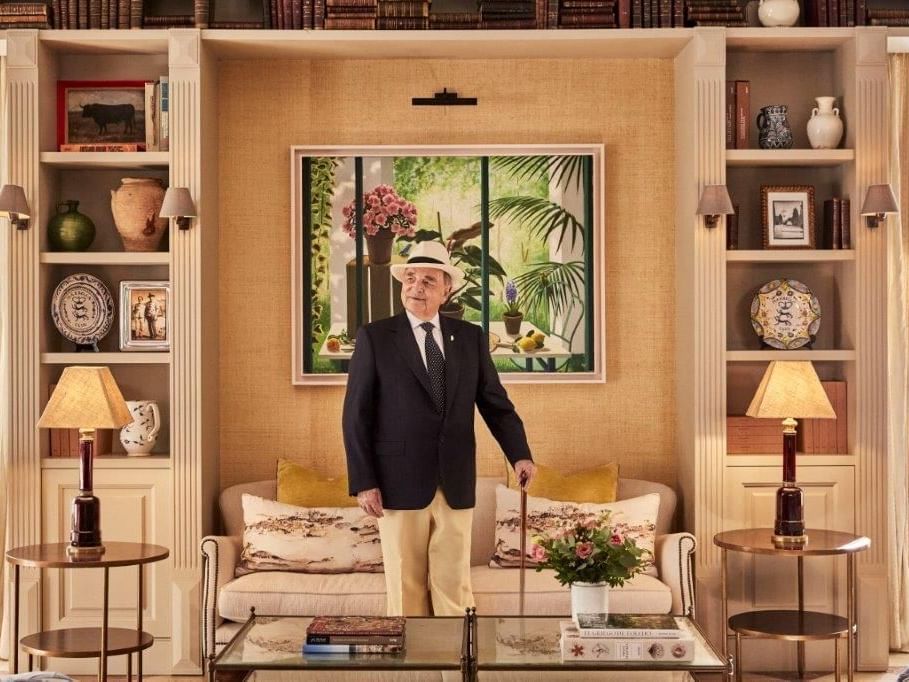 Count Rudi Turns 90
20/09/2022
The Marbella Club and wider community raises a glass to the hotel's first general manager, Count Rudi von Schönburg, a key figure in developing the highest standards of hospitality.